Industrial Hygiene Equipment Calibration and Repair
Wilner-Greene lab technicians are trained and certified by the manufacturers of the major industrial hygiene instrument brands that we supply and service. Our experienced technical staff handle repair and calibration of almost any measuring and monitoring equipment brand or model:
Heat Stress Monitoring
Environmental Monitoring

Gas Monitoring
Vibration Measurement
Audiometric Testing Equpment
Vision Testing Equipment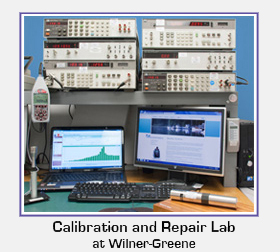 Our lab offers a full scope of services and expertise to meet your industrial hygiene instrument repair and calibration requirements and provides the most efficient and comprehensive technical support for your equipment service and calibration, as well as compliance documentation and reporting.
Send your industrial hygiene equipment to WGA for calibration, and you can ship any number of brands and models to one lab — issuing only one purchase order and using one vendor — so you save time, hassle, and expense.
We're small enough to turn on a dime and provide same-day calibration, download data, troubleshoot user or equipment issues, and supply complete and traceable calibration certificates that will stand up to the most rigorous scrutiny, protecting your company's investment and the integrity of your entire monitoring program.

WGA will send you a reminder one month before your equipment is due for calibration. When you call in, we'll issue a Return Material Authorization and Calibration Quote for the equipment, directing your instruments to our calibrations and repairs lab in Yarmouth, Maine.
We also partner with NistLab SAI, run by Brian Stanhope, BS, EE, who was at one time our Chief Engineer here in Yarmouth. Brian moved his family to beautiful Charleston, South Carolina, replicated our Yarmouth lab "down south" and developed additional processes and capabilities that broaden our collective scope of calibration services.
Our computer and phone systems are networked, so the two labs provide the best possible work flow and technical support for your equipment.
Our pricing, as shown below, can save your company 50% for the same NIST, OEM, or factory-compliant calibration and service. Volume discounts apply starting with the second unit, all service is guaranteed to satisfy, and our 1-year recalibration warranty is unmatched.
Equipment Type
Real Time Frequency Analyzers
Air Velocity Meters
WGBT monitors
Audiometers, Typanometers,
Vision screeners
Confined Space Monitors


Acoustical Calibrators
Octave Band Filters
IAQ Monitors
DustTrak Particle Counters
Example Manufacturer(s)
Quest, Metronics, Casella, Larson Davis
Quest, Metronics, Casella, Larson Davis
Gillian/Sensidyne, AP Buck, Bios
Gilian/Sensidyne, AP Buck, SKC
Quest, Larson Davis
TSI, Alnor
Quest, IST, AIM
Maico, Interacoustics, GSI, Titmus


Quest, BioSystems,
Industrial Scientific, BW, RAE
Quest, Metrosonics, Casella, Larson Davis
Quest, Metrosonics, Larson Davis
Quest, TSI, Metrosonics
TSI, ENV Devices, Sensidyne
Calibration Cost
From $130
From $145
From $115
From $95
From $210
From $95
From $150
From $75


From $135


From $105
From $80
From $175
From $325
Pre and Post readings are available
Certifications and documentation maintained electronically - indefinitely
Type 1 and Type 2 Accuracy
Community Noise, OSHA, MSHA
Same-day and expedited turnaround available
Engineering staff available
If something is not on this price list or if you want a detailed quote, please call or email.
If we can't help you, we may know who can.