Sound Level Meter Calibration and Repair Services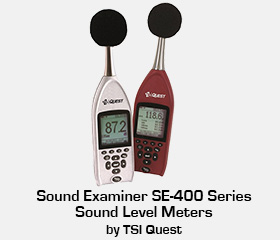 Resolving excessive community noise or unsafe industrial noise requires sound pressure level meters (SPL meters) that take accurate noise level measurements. To avoid hassles and litigation, there should be no doubt that the noise pollution falls within or exceeds municipal noise ordinance or OSHA regulated standards. SPL meters, also refered to as decibel meters, sound meters or digital sound level meters, take accurate readings of ambient noise in decibels to accurately measure the potential for damage to the human ear or simply to enforce compliance with municipal nuisance noise regulations.
Why Calibrate Noise Measuring Equipment?
Over time, with wear and tear of use, sound level instruments can begin to measure noise imprecisely. Regular sound level meter calibration with an acoustic calibrator ensures that, if a case goes to litigation, your sound level readings hold up in court. Scheduling regular sound level meter calibration as part of your routine maintenance cycle will help you save money and stay protected.
Why Choose Wilner-Greene for Sound Level Meter Calibration?
We source sound measurement instruments from the the highest quality manufacturers such as Quest, Metrosonics, Casella, Larson Davis and TSI Quest.
We provide expert SPL meter calibration with fully documented procedures. Our wide range of product knowledge sets us apart, and our automated systems mean quality and cost-effective service and efficient turn-around time. Wilner-Greene's factory-trained technicians meet ISO 9001:2001 quality standards and repair and calibrate virtually any brand and model of noise measurement equipment in our well-equipped calibration laboratory.
For pricing, call 1-800-634-4327 or
email us