The Importance of Noise Dosimeter Calibration and Repair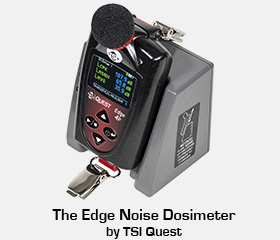 Industrial hygiene programs are most effective when the instruments that monitor and record workplace noise levels are in sound working condition and are accurately calibrated.
Wilner-Greene calibrates and repairs noise dosimeters and noise badges (sometimes called noise loggers) used for industrial hygiene and occupational health and safety compliance to ensure accurate readings of workplace environmental sound pressure levels.
When WGA's experienced, factory-trained and certified technicians calibrate your noise dosimeters, you can be sure they've been properly calibrated and documented for maximum effectiveness.
WGA calibrates standard noise dosimeters, noise badges, and combination noise dosimeter/sound level meters from the most reliable sound level meter brands including Quest, Metronics, Casella, and Larson Davis.

---
The Edge 4+ Personal Noise Dosimeter features a color screen and is available in Bluetooth and non-Bluetooth models. Bluetooth connectivity enables users to monitor multiple dosimeters with a smartphone app.
---
For pricing, call 1-800-634-4327 or
email us