Make your time more productive — and more profitable — by renting Indoor Air Quality Meters from WGA.
Indoor Air Quality (IAQ) Meter Rentals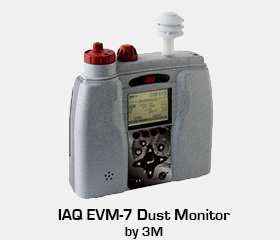 Wilner-Greene Associates rents indoor air quality monitors and industrial hygiene equipment for environmental assessment, pollution monitoring and control, and occupational safety and health.
Our indoor air quality and safety equipment rental inventory includes:
Personal air sampling pumps
Air flow calibrators
Gas detector tubes
Dust monitoring, user-selectable particulate sizes: PM2.5, PM4, PM10 & TSP (total suspended partical)
Indoor Air Quality: CO, CO2, Rel Humidity & Temp
PID for volatile organic compounds (VOCs)
Data Analysis Software
We source indoor air quality testing and monitoring instruments from the highest quality manufacturers such as Quest, TSI, and Metrosonics.
Technical Support and Customer Service
Our ISO 9001:2001 compliant laboratory calibrates each indoor air quality rental unit annually, maintaining meticulous documentation on repairs and calibration certificates, available upon request.
We take pride in providing exceptional customer service and technical support. Factory-trained technical support and friendly customer service is only a toll-free number away.
Indoor air quality rental meters come complete with the following:
A current calibration certificate
60-day software
Full instructions
A "quick start" pocket guide
Full technical support: on-site measurements, data retrieval, and data interpretation
We make renting indoor air quality (IAQ) instruments easy:
Daily, weekly, and monthly rates available
48-hour-notice on most items
We ship Next Day Air in the continental U.S.
N.I.S.T. traceable calibration certificates
Visa, MasterCard, and Amex accepted
No minimum order
Tech support available
For pricing, call 1-800-634-4327 or
email us